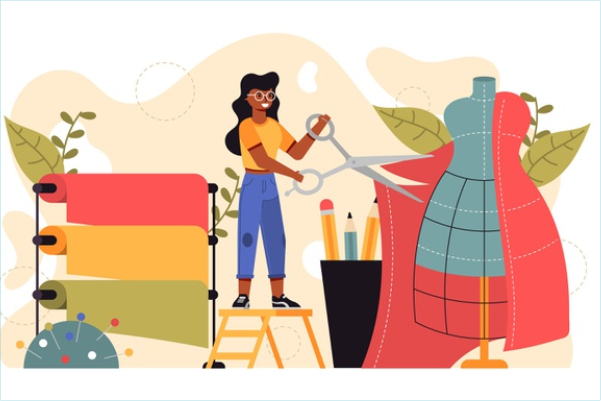 Fashion Designing is one of the most fulfilling, charming, marvellous and energizing professional options amongst all age groups in today's world. If you have the acumen to meet challenges head-on or deal with work pressure, the fashion industry is an ideal place for you. This industry is a fast-paced world where trends rotate and fade every day. Besides glitz and glamour, aspiring fashion designers have multiple work avenues. They can work in a wide range of settings and work environments in or outside the country.
Numerous individuals don't understand that fashion design requires an entire cast of characters. There are numerous ways to the fashion career you need. From designer to trend research, one of the accompanying occupations can assist you with picking up involvement with the business and put you on track to make the following stride.
Major profiles you can look forward to being in this industry:
1. Fashion sketching - is the speciality of imparting style ideas in a visual structure that originates with illustration, drawing, and painting and furthermore known as Fashion illustration. It is mainly utilized by fashion designers to conceptualize their thoughts on paper or digitally. Fashion sketching plays a significant role in structuring to preview and visualize designs plans before sewing real garments
2. Assistant Designers – lend both creative and practical support to fashion designers. Some of their duties include researching current trends, crafting new product ideas, attending fittings, and preparing colour boards. Assistant designers may also schedule and organize things to ensure that projects get finished in time for meetings and seasonal sales.
3. Head Designers / Design Directors – is the highest creative position in a fashion house. They don't design garments, rather plans and puts forth for the designers an overall idea or ideas for a certain collection and the label as a whole. A fashion creative director's principal job is to build up what designs to be made, what will interest the target market, and how the ideas will be applied and appropriated as a team with design fashioners who are liable for making the garments and textures.
4. Fashion trend forecasting/ Researchers - help predict trends in the fashion industry. They predict by the mood, behaviour, and buying habits of the consumer at a particular time of the season. It is no longer a question of finding your markets or consumers by age, geography or income, but looking into how and what they buy, based on their culture, mood, beliefs, occasion & geographic locations, it also dependent on fashion cycle and plays a major role in the introductory phase of recurring fashion cycles.
Apart from that, there are few other specialities to further customize your career by choosing to focus on a particular style or kind of garment like accessory design, children's clothing, costume design, footwear, lingerie, men's wear, sportswear, swimwear, uniform and women's wear where you can especially focus on and can flourish your career with vibrant ideas and creativity.