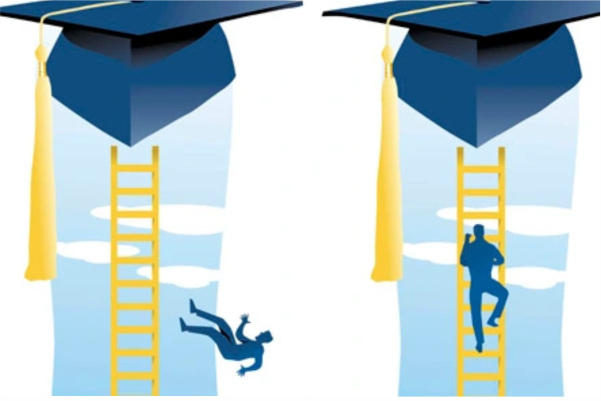 Career Education refers to the vocational training for a particular field for future goals. It helps students to develop the skills they need to evaluate career paths. Instead of focusing on academic subjects, the focus is given to hands-on training through the tools of occupation. The major importance of career education is that the choices made by young adults in schools have long-lasting impacts on their careers. Pupils display higher levels of engagement when they have a clear understanding of what they want to do in the future. Also, teachers and counselors provide the essential guidance which creates a bridge between education and career.
The reason behind a high scale drop-out rate in high school is mainly because of some of these: -
Academic failure: - The biggest reason for dropout in school is struggling of students on daily basis with various activities. Pupils get demotivated easily in the early stages of learning like not being able to read properly, getting confused in mathematics rules, etc. which in the future pupil will find it difficult to cup with and ultimately drop out.
Disengagement: - Students often disengage from learning, feeling their teachers don't care for the course and understand how to connect it to practical education. There are high chances of dropouts who are not involved with their school life
Engaging minds: - The schools need multiple activities to get students engaged in school tasks and studies. Teachers and administrators need to seek or create a community atmosphere to assist students to feel as if they belong to this environment. Parents, also, can help encourage students to get them involved in activities and interests besides academics and evolve their talents.
Financial: - According to the studies and research, pupils belonging to low incomes families have the highest dropout rate. The reason behind this is that in most cases children need to perform a job for some earning rather than going to school and spending the earning on the tuition fees.
Drug use: - Drug use is amongst the biggest problem in youth in particular. As teens start using drugs or getting addicted not only worsens their health but also they start to miss more school time and finally leave school.
Mental illness: - Students who are suffering from depression are twice as likely to drop out of school. The reason behind this is their illness can affect their ability to learn and their engagement in studies. These kinds of students tend to go unnoticed because their condition might be chalked up to being a teenager.
Discouraging environment: - This is another cause why most high school children come to a sticky end these days. Feeling less engaged and lonely is the basis for their turn down. They often identify themselves bypassed when schools don't follow Outcome-based education. Motivation barriers can also be seen. Two types of motivation barriers are: Internal and External. Internal includes learning environment, whereas external includes isolation fear, absence of social cues, etc.
Picking the wrong course: - This is the point where all the problems start. Figuring out the right and personal interest course of study is kind of difficult and can be stressful. This can be a winding road rather than a straight road. Also, Course evaluation performed early can become the right mentor here.
While individuals cannot control many factors that contribute to students dropping out of high school, they can help out pupils to succeed in some ways. Since most of the high school drop-outs state that they were failing, it makes sense to parents and educators to give young people more chances to learn course materials and attain better grades than before. Parents also can contribute to student success simply by staying involved in their education. This includes tracking grades, talking to teachers, attending extracurricular events, and cultivating plans for their children. Hence, the school drop-out rate can be decreased, if proper steps and planning are carried out at the right point in time.